Why We Do What We Do
Learning how to dance can help you improve your balance, posture and general fitness all while enjoying music and practicing a soothing exercise for your body and mind.
If you're looking for a bit of excitement in your life and brighten your days - dancing does it all! Here at Dance Flow, we are committed to providing a safe dance studio for you to learn how to dance.
Our dance studio offers many dance opportunities such as private lessons, practice parties, showcases, competitions, and other special events.
THERE IS NO PARTNER AND NO EXPERIENCE REQUIRED! For now, just bring your excitement to learn something new!
Why Choose Our Dance Studios?
Dance Flow is a place where people in our neighborhoods can become healthier and happier.
At our dance studios, we work to instill in our students a sense of purpose, quality, and discipline and strive to make our classes a constant quest for improvement.
With us, you will discover how easy and fun it is to learn how to dance and will make progress and develop confidence.
We want students to bring energy to the dance floor and embody an attitude of enjoyment, and of someone who is kind, grateful, and someone who everyone is delighted to be around.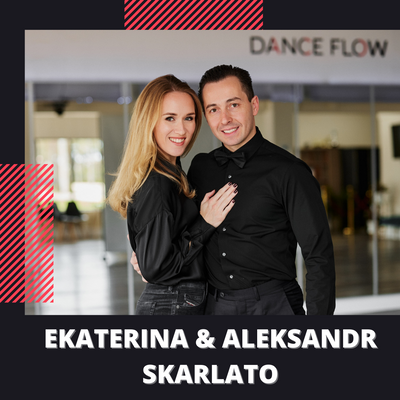 Aleksandr and Ekaterina Skarlato
For Aleksandr, passion and determination are cornerstones for everything in his life. His natural passion for dance and boundless energy on the floor quickly set him apart from others in his native Ukraine. After claiming the Ukrainian National Latin Champion and Blackpool Semi-Finalist, he set his sights on the US as a competitor, an instructor, a coach, and a judge. In his more than 30 years in the dance industry he has helped countless students achieve their goals in ballroom, and has the regional, national and world awards to prove it.
Ekaterina was born in Russia and studied management at the Civil Defense Academy. She also used to work as a first-class flight attendant, which let her learn a lot about different cultures, hospitality, and customer service.
In 2015, together with Aleksandr they moved to start new life in the United States.
Aleksandr and Ekaterina want Dance Flow to feel like a second home for the students and make them feel happy at the moment they step into the dance studio!